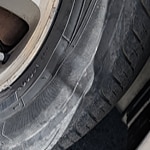 When you inspect your tires, pay attention to any cracks that are visible. Your tires should be smooth on each side without any holes or cracks that reveal the wires inside the tire. If you notice these issues, then consult with Volvo Cars Charlotte about replacements as the condition could result in a flat tire or blowout while you're driving.
The wear on your tread can usually indicate whether your tires are underinflated or overinflated. Wear in the center of a tire is usually an indication that it's overinflated. Wear on the inner edges can be a sign that you need an alignment or tie rod repairs.
A vibration that is unexplained can sometimes be an indication that you need to have one or more tires replaced. While driving in Charlotte, you might notice a vibration that suddenly occurs and becomes worse over time if you have a flat tire or if the wires in a tire are showing.