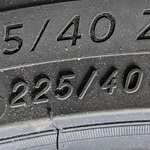 Tires perform an important role for your car, and having the right size tire is extremely important. While it may seem like reading the tire size is nothing more than knowing the size of your wheel, it's important that you actually understand the tire size. Our team of professionals at Volvo Cars Charlotte are here to guide you in getting the right size of tires for your vehicle.
There are several letters and numbers on your tires, and each of them is important because they each represent a size or measurement. In the example of a P215/ 60 R15, here is what each thing means.
• P- means passenger tire
• 215- the width in millimeters from one sidewall to another
• 60- height of the sidewall and percentage of the tire's width
• R- means radial tire
• 15- the size in inches of the wheel that the tire will fit
Come to our dealership in Charlotte and talk to the tire specialists. They can help you understand what tires will be best for your vehicle and even help you order them.