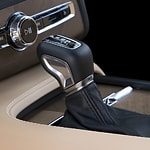 The mid-sized Volvo XC90 provides a roomy interior, cargo space and a snazzy selection of powertrains. Choose from three options to get you where you need to go – the T5, T6 and T8.
The T5: This turbocharged four-cylinder 2.0-liter engine generates 250 horsepower with torque of 258 pound-feet.
The T6: This turbocharged, supercharged four-cylinder 2.0-liter engine generates 316 horsepower with torque of 295 pound-feet.
The T8: This hybrid twin-charged engine works with its two electric motors generating 400 horsepower and torque of 472 pound-feet.
You can obtain the XC90 T5 with front-wheel drive standard or the optional all-wheel drive. All-wheel drive comes standard with the T6 and T8 engines. Each engine comes with an eight-speed automatic transmission.

Choose the T5 engine for everyday driving. It does not accelerate quickly, going from 0 to 60 in a little more than seven seconds. Its T6 and T8 engines were built for quick acceleration and to provide superior passing power on the highway The T8 can go from 0 to 60 mph in 5.8 seconds. It provides overall positive transmission functions.
The XC90 provides mid-range to superior fuel economy depending on the engine. The T5 with the standard front-wheel drive provides 30 mpg on the highway and 21 mpg in the city. When you choose the all-wheel-drive option, the vehicle earns 27 mpg on the highway and 20 mpg in the city. The T6 engine earns 26 mpg on the highway and 18 in the city. The T8 as a hybrid earns a combined fuel economy rating of 27 mpg. It can traverse 18 miles on battery power alone. The EPA rating for this plug-in hybrid is 55 MPGe.

Come visit Volvo Cars Charlotte serving the Charlotte area to test drive the XC90. Drive it around to learn why this performance vehicle is the one you should drive home.